Ansel Adams took some of his most famous pictures here. So can you.
1. Filters
These filters improve photos significantly and should be in every camera bag. Even if you do not have a camera that allows filters to be mounted on the lens, hold one of these in front of the lens to improve your pictures.
Polarizing filter – reduces the glare in a photo. Only works when the sun is behind or to your side. Does not work indoors.

Split Neutral Density filter – useful in canyons where it's sunny above and shaded below. Move the grey part of the lens to cover the bright area of the scene, balancing light.

Warming filter – adds warmth to an overcast day.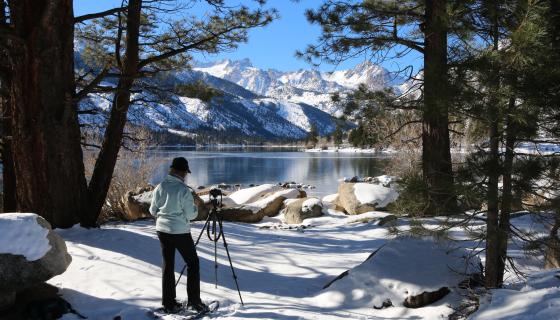 2. Tripod
Mount your camera to a tripod for sharper pictures. Use a shutter release mechanism or camera timer when shooting at below 1/60 sec.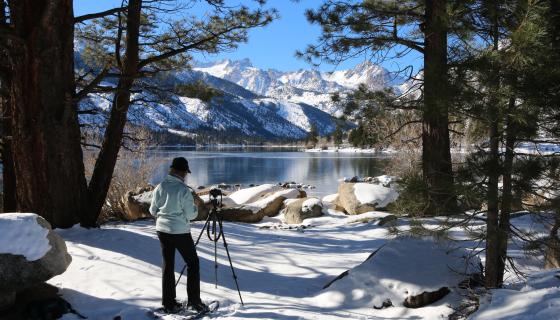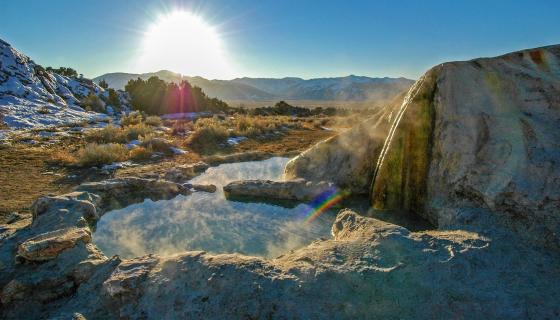 3. Shoot at Sunrise
The Eastern Sierra is lit most fully in the morning when sunlight colors the Sierra Nevada with warm, pink light. Drive to the east and west toward the mountains to see Sierra peaks lit with sunrise color.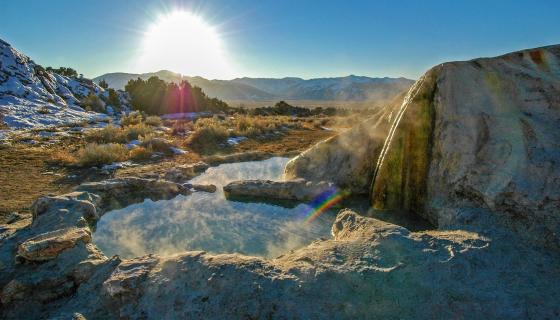 4. Face east at Sunset
Because the sun sets on the other side of the Sierra Nevada, at sunset, they are shadowed. So, turn to the east, when shooting at sunset, and take pictures of the alpenglow on the White Mountains.
5. Waterfalls
Shoot little waterfalls on a tripod with a slow shutter speed (1/8 sec) and big waterfalls with a fast shutter speed (1/500 sec.). By doing this, the water will appear as delicate and wispy on the little waterfalls and as powerful on the large falls.
6. Subject close to the camera
When shooting people in relation to an object or landscape, encourage them to stand close to the camera and place the object over their shoulders in the distance. By doing this, the people will be more recognizable and you'll still see the object in the background.
7. Lenses
Bring a telephoto lens to photograph wildlife at a distance, such as the birds at Mono Lake, and a wide angle lens to photograph people up close while also including the landscape.
8. Adjust your Camera
Today's cameras include many helpful preprogrammed functions (closeup, backlit, landscape, portrait, action, snow, beach/water, etc.). Use them and you'll get better photos.
9. ISO
Adjust the sensitivity of your camera (ISO) for your shooting situation. In low light situations with action or movement, use a high ISO (400 or greater). In normal light or where maximum color is needed, set your camera to a lower ISO number (50 to 200).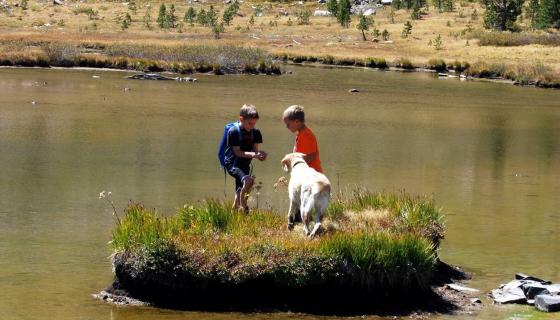 10. People
Include people in your photos. They help show how big things are and add interest to photos. The best photos often show people doing things and not staring at the camera.