Hot springs abound in Mono County. Pools and tubs of all sorts can be found scattered through the region, from easy-to-reach spots to those well off the beaten path. With the exception of the Inn at Benton Hot Springs, the numerous hot pools in Mono County are natural, typically accessed via rough dirt roads, and are not maintained. So use them at your own risk and please pack out anything you bring in.
           Hot Creek Geological Site near Mammoth Lakes no longer allows soaking or swimming, but is an interesting place to learn about why so much water boils up from underground in the Eastern Sierra. It's also a fantastic spot for fly-fishing!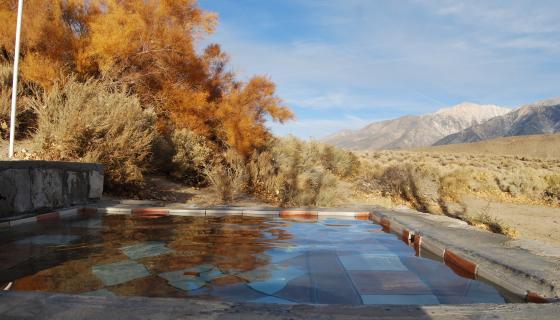 Benton Hot Springs
Benton, CA
The hot springs at Benton are perhaps the purest hot springs in the world. Natural mineral water rises to the earth's surface at 140º in this historic mining town. Accommodations include seven rooms at the Inn (including breakfast!), a historic miner's cabin, five houses with private hot tubs, and 11 private tub sites for tent or RV camping. Reservations can be made through the Inn at Benton Hot Springs website.
Be sure to pick up the Historic Benton Hot Springs self-guided walking tour map from the front desk, and ask if any fundraising events are coming up. And if you're looking for incredible off-road adventures, check out Routes 13-15 in the Backroad Tours of the Eastern Sierra, available online or at an area visitor center. 
Directions - From the Mammoth area, follow US 395 to Benton Crossing Road.  Go east on Benton Crossing Road, then turn right on Highway 120 to Benton. From Lee Vining and north, take Highway 120 east to Benton. From Bishop, take highway 6 north towards Benton, then left on Highway 120 for four miles.