Hot springs abound in Mono County. Pools and tubs of all sorts can be found scattered through the region, from easy-to-reach spots to those well off the beaten path. With the exception of the Inn at Benton Hot Springs, the numerous hot pools in Mono County are natural, typically accessed via rough dirt roads, and are not maintained. So use them at your own risk and please pack out anything you bring in.
            Wild Willy's near Crowley Lake and the Travertine Hot Springs outside Bridgeport are two of the most popular places to go for a soak, but for those willing to do a little research either online, by picking up a local hot springs book or chatting up some locals or visitor center staff, will find boundless options in the region. 
             Hot Creek Geological Site near Mammoth Lakes no longer allows soaking or swimming, but is an interesting place to learn about why so much water boils up from underground in the Eastern Sierra. It's also a fantastic spot for fly-fishing!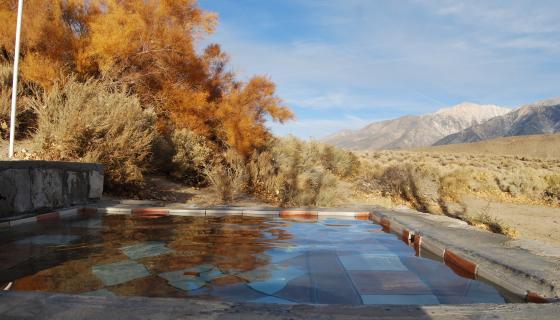 Benton Hot Springs
Benton, CA
The hot springs at Benton are perhaps the purest hot springs in the world. Natural mineral water rises to the earth's surface at 140º in this historic mining town. Accommodations include seven rooms at the Inn (including breakfast!), a historic miner's cabin, five houses with private hot tubs, and 11 private tub sites for tent or RV camping. Reservations can be made through the Inn at Benton Hot Springs website.
Be sure to pick up the Historic Benton Hot Springs self-guided walking tour map from the front desk, and ask if any fundraising events are coming up. And if you're looking for incredible off-road adventures, check out Routes 13-15 in the Backroad Tours of the Eastern Sierra, available online or at an area visitor center. 
Directions - From the Mammoth area, follow US 395 to Benton Crossing Road.  Go east on Benton Crossing Road, then turn right on Highway 120 to Benton. From Lee Vining and north, take Highway 120 east to Benton. From Bishop, take highway 6 north towards Benton, then left on Highway 120 for four miles.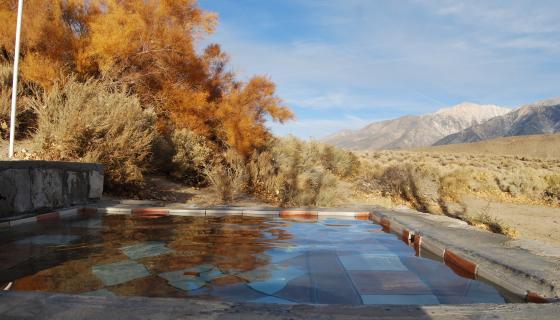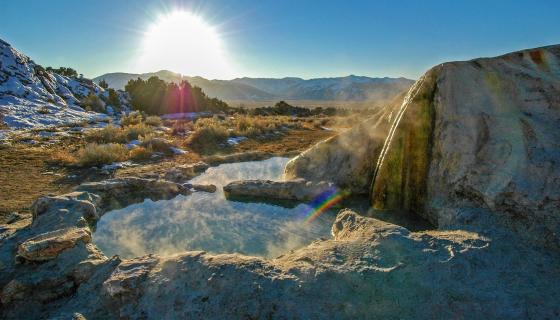 Travertine Hot Springs
Bridgeport, CA
Travertine Hot Spring lies on California State Park land just south of the town of Bridgeport along Route 395. It is one of the easiest hot springs to get to and features a stunning view of the Sierras while you bathe. All types of people visit Travertine, including the nearby park rangers, campers, families, couples, and single travelers. Limited camping space is available on the short dirt road leading to the hot springs, but is not allowed in the immediate area of the pools.
Directions - Take Route 395 south of Bridgeport half a mile. Turn left at Jack Sawyer Road, just before the Ranger Station. Follow Jack Sawyer Road approximately one mile. Road may close or be difficult to travel on with snow.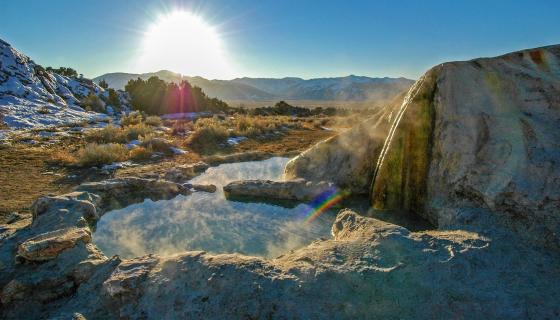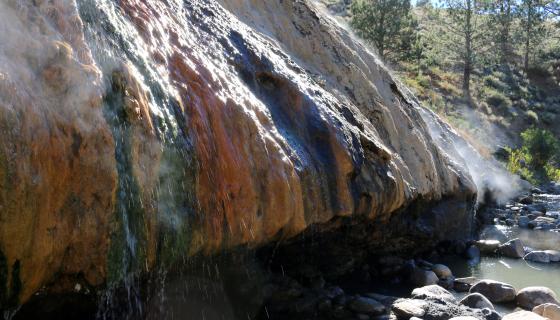 Buckeye Hot Spring
Bridgeport, CA
Located in the Toiyabe National Forest, just north of Bridgeport and on the edge of Yosemite National Park Buckeye features pools next to an adjacent babbling brook, very soothing to the senses and frayed nerves. The hot mineral water cascades over a cave. Troglodytes and kids will enjoy soaking in the cave, while others will be content in the outer pools adjacent to the stream. The majority of bathers are campers, thanks to the nearby campground.
Directions - To get to Buckeye from the northern end of Bridgeport, turn off of Route 395, turn west on Twin Lakes Road and travel seven miles. Turn right just past Doc and Al's Resort, then cross the bridge going over the creek. Continue uphill along a gravel road, past Buckeye Campground. At the top of the hill, you'll find a parking area. The springs are down the trail from the parking lot. Closed in the winter.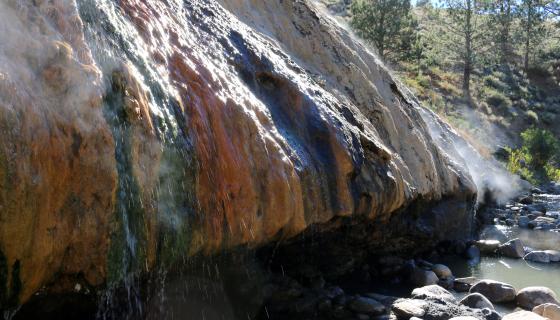 Wild Willy's Hot Springs
Also known as "Crowley Hot Springs," Wild Willy's is located just a few miles from Mammoth Lakes. This hot spring is a bit more natural.
Directions - From US 395, take Benton Crossing Road (also known as Green Church Road). Travel east about 2.5 miles until you cross two cattle guards. Turn right just past the second cattle guard and follow the road, always taking the left fork whenever there's a choice. About a mile down, you'll reach a parking area where there's a sign and wooden boardwalk that leads about 200 yards away to the pools.
Hilltop Hot Spring
Hilltop Hot Spring has one of the best views of the area. Located only a short distance from Mammoth Lakes, the hot spring is quite popular so don't be surprised if you have to share a tub with someone else. Hilltop is located on the west side of Benton Crossing Road and is open to the public.
Directions - From US 395, take Benton Crossing Road (also known as Green Church Road) 2.7 miles until you see the turn off on the west side of the road. 
Be a Good Bather
The natural hot springs are not maintained, nor are the roads to access them, so please use caution when traveling to and soaking in the hot springs. Please remember to practice leave-no-trace. Brush up on your Mountain Manners so everyone can enjoy. For more information on camping, campfires, and current conditions, please contact a local visitor center.