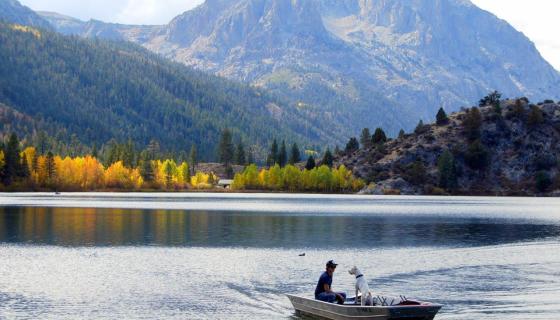 Gull Lake
At just over 60 acres, Gull is the smallest of the four roadside lakes on the June Lake Loop. What the lake lacks in size, however, it more than makes up for in character.
Located on the edge of downtown June Lake, Gull is a popular lake for a variety of reasons. Easy access makes the well-stocked lake a beloved by anglers of all ages. The views of the surrounding "Switzerland of the Sierra" as the June Lake Loop is called, are also tough to top. Gull Lake is home to a popular kids playground and offers great spots for picnics as well.
It's also the most social lake on "The Loop." The Gull Lake Marina is a mecca for anglers and visitors of all types. Their free popcorn and 10-cent cups of coffee have long been popular and the short stroll from the hotels and restaurants in June Lake make walks to the lake a part of any summer stay in town.
Directions: Follow Gull Lake Road from Highway 158 in downtown June Lake to the lake. There is also access along the southern edge from Highway 158 and from the Gull Lake Campground.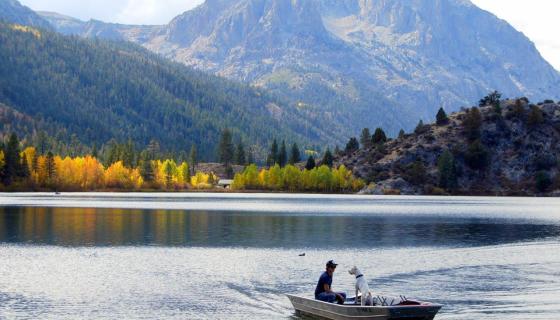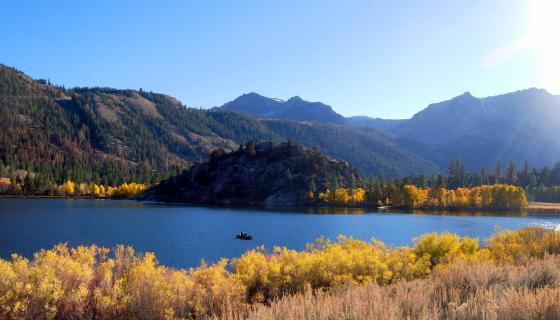 Camping at Gull Lake
The small Gull Lake Campground is located at the southern end of the lake. Lots of trees and willows offer great shade and privacy between sites. The campsite offers a flush toilet but no RV hook ups. It is open from the last weekend in April until November 1, but does not take reservations. There are also a variety of hotel options available in June Lake.
Directions: From downtown June Lake follow Highway 158 west for less than a half a mile. The campground is on the right.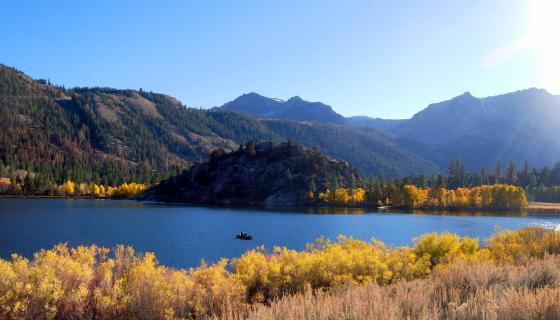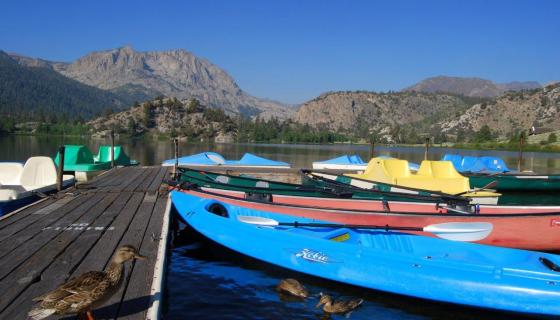 Fishing at Gull Lake
While other lakes in the June Lake Loop feel rather expansive, Gull Lake offers a more intimate experience. It is easy to fish the whole lake by boat or much of it from the shore in an afternoon. But just because it's small doesn't mean it lacks a big bite.
Gull is home to some remarkably large rainbow and brown trout, as well as some rather elusive cutthroat and brook trout. Fish in the 5-pound range are caught so regularly that the Gull Lake Marina (760.648.7539) offers a "Wheel of Fortune" for anglers who land a fish that large, doubling up their luck with a wide variety of prizes. The Wheel of Fortune used to be for fish three-pounds and up, but too many folks were winning.
The Gull Lake Marina also hosts the annual Fish of the Month Club derby. The contest is rather simple. Every month the pot starts at $100 and anglers can then enter and up the pot for just $10. At the end of the month, whoever turns in the largest fish, which is weighed and measured at the Gull Lake Marina, wins the pot and bragging rites.