Fishing & Stocking Reports
Stocking Reports:
The 2021 Mono County Trout Stocking program starts about two weeks before opener and will continue all summer throughout 21 bodies of water in Mono County. 
Sustainable Fishing: Think "catch and release." A healthy Mono County fisheries system needs healthy fish. Keep only what you need release the rest to reproduce, grow, and become a Trophy Trout.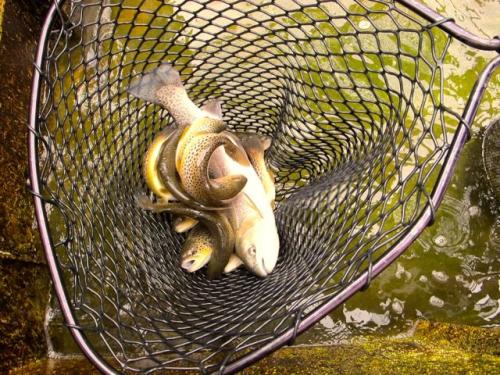 California Dept. of Fish and Wildlife Fish Planting Schedule
Sotcher, Starkweather and San Joaquin River, Middle Fork are listed under Madera County. For recorded information, call (855) 887-1275. 
Fishing Reports from the Experts:
Western Outdoor News - Eastern Sierra's most comprehensive, current fishing report
Ken's Sporting Goods - Experts on Bridgeport waters and surrounding area 
Performance Angler's (Facebook)
Sierra Drifters - Up-to-date, detailed reports on Crowley Lake, Owens River, Hot Creek & more
The Trout Fly / Trout Fitter - Mammoth Lakes and Bishop to Bridgeport 
FishMammoth.Com / Eastern Sierra Fly Fishing Report
EXTERNAL REPORTS:
Easternsierrafishingreports.com - updated reports from all over the Eastern Sierra.  Fish reports directly from the local guides, tackle stores, marinas and more!
Marinas and Lakes Fishing Reports:
Crowley Lake
Convict Lake 
Gull Lake - June Lake Loop
Silver Lake - June Lake Loop
Bridgeport Reservoir
Bridgeport
Walker River
Virginia Lakes Resort
Topaz Lake
Live Webcams:
Crowley Lake
Silver Lake - June Lake Loop
Gull Lake - June Lake Loop
Bridgeport Reservoir
Analytical Reports:
Bridgeport Fish Enhancement Program
Crowley Lake
East Walker River (Stream Gaging)
Owens Valley Flow Reports
Quagga Mussel Prevention - Crowley Lake Read here about the efforts by Caltrout and the CADFW to help restore the native and very drought-resilient Lahontan Cutthroat Trout.