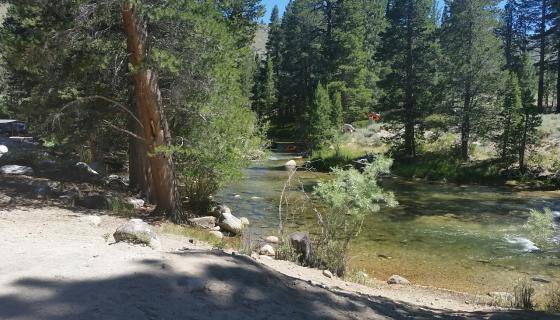 Robinson Creek
Running from the evergreen canopy of Twin Lakes to Bridgeport Reservoir, the creek covers less than a dozen miles. But those miles are pretty darn impressive. Named in honor of Moses Robinson, who had a lumber mill along the stream in the 1860s, Robinson Creek is a gorgeous high mountain stream. Starting amongst the pines and aspens above Twin Lakes and picking back up at the outlet of Lower Twin Lakes, it weaves its way past horse and cattle pastures in a high mountain meadow as pretty as you'll ever see, until it meets up with the Bridgeport Reservoir.
With the Sierra Nevada carving its impressive shadows into the sunset each evening just to the west of the creek, it is a popular spot for campers and anglers.
Directions: From Highway 395 in Bridgeport, turn west on the Twin Lakes Road follow it for several miles until you begin to parallel the river.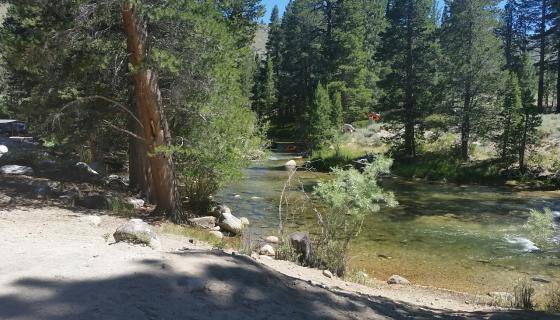 Camping at Robinson Creek
Just a mile downriver from Lower Twin Lakes you can find the 30-site Robinson Creek Campground, one of a handful located at the entrance to Lower Twin Lakes. The campsite offers great access to the creek and stunning views. A 9-mile drive from the town of Bridgeport, the campground is only a mile from Lower Twin Lakes and includes paved parking for tents and campers, potable water, vault toilets, food storage lockers, picnic tables and campfire rings, but there is no electricity.
The campground is open from April through October and there are bears in the area, so proper food storage is highly recommended. Sites can be reserved online at recreation.gov or by calling 877-444-6777. Reservations must be made at least 4 days in advance.
Directions: From Highway 395 in Bridgeport, turn west on the Twin Lakes Road and travel approximately nine miles. The campground is on the left hand side of road.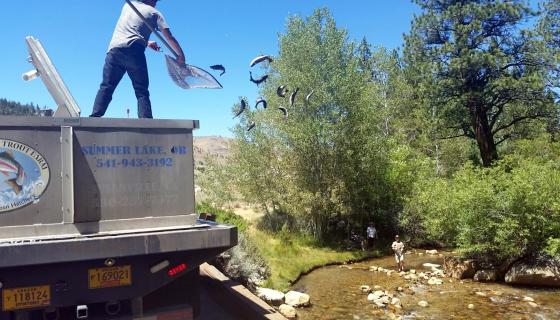 Fishing at Robinson Creek
When most folks think of the ideal High Sierra fishery they usually picture a place like Robinson Creek.
"Some of the prettiest country you'll ever see," is how John Barbier describes Robinson Creek in his classic book, Angler's Guide to the Eastern Sierra.
But looks alone are not what make this fishery so popular, it's also usually loaded with trout and offers easy access to boot. The small creek never gets much wider than 30-40 feet as it drops from 7,200' at the alpine edge of Twin Lakes down about 10 miles to 6,500' at Bridgeport Reservoir. The first two tree-lined miles are the most popular and easily accessed from a day-use lot at the campground. But if you're willing to do a little hiking to get a little further down the beaten path, you're certain to find a few spots that will feel like you've got them all to yourself.
Robinson Creek is strewn with large granite boulders providing plenty of solid habitat for the creek's healthy trout populations. Known for rather prolific rainbow trout, Robinson Creek gets well stocked with hatchery fish, but is also home to brown trout and the occasional small kokanee salmon that spill down from Twin Lakes.
The trail above Upper Twin Lakes also leads to some nice spots along upper Robinson Creek for fans of brook trout.
Directions: From Highway 395 in Bridgeport, turn west on the Twin Lakes Road. Access points are available along the campgrounds on the left hand side of road beginning about eight miles from town.