More water from winter storms means surging waterfalls and super-blooming flora in the Eastern Sierra.
Two of the Eastern Sierra's biggest attractions — waterfalls and wildflowers — tend to have one thing common: Snowmelt.
And based on the record-shattering snowfall in the Sierra this winter, longtime observers are expecting that Mono County, one of the biggest and most active locations in California for both waterfalls and wildflowers, is going to experience more of both than anytime in recent history — or possibly ever.
Because of the jagged, vertical nature of the eastern side of Sierra Nevada range, coupled with great swaths of natural meadows and grassy foothills, Mono County traditionally is an epicenter in California for towering cascades and potential wildflower super-blooms. And for travelers also looking for a walk, many low-elevation trails offer access to some of the region's most impressive falls and fiery flora.
While the waterfalls typically surge in early spring, which is usually when the wildflower season is just getting started, experts are expecting that dramatically increased levels of snowmelt will extend the time that the two seasonal spectacles will overlap. Also, the same rapid warming that already is driving the bigger, bolder waterfalls, is thawing out critical trails for reaching both. With that in mind, visitors are urged to exercise extreme caution when recreating on Mono County's waterways this year as the increased flows can be dangerous (especially for children and dogs) and other hazards, like eroding creek and riverbanks, mud and rock slides, etc. may be present. 
With record-snowfall comes delayed access to higher elevation trails and roads. For updates on accessibility, please call (800) 845-7922 or follow us social media at Facebook and Instagram.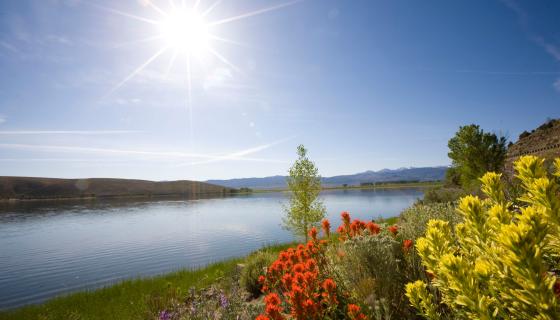 Antelope Valley
Wildflower seekers can find the bloom earlier than other areas of the county in the Antelope Valley, between the towns of Walker and Coleville and Topaz. Take Mill Canyon Road off U.S. 395 at Coleville for expansive fields of festive flora, usually during the second half of May. Also, take the Golden Gate Mine Road to Little Antelope Valley Pack Station to see fields bright with wild mustard, mule ears, lupine and wild iris. Spot flowers easily from your drive by beautiful Topaz Lake.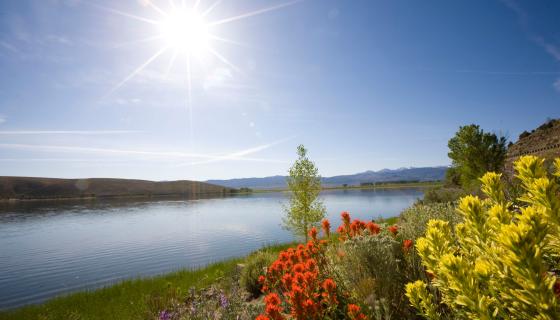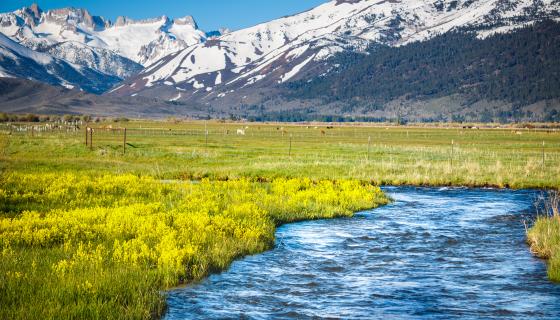 Bridgeport and the Bodie Hills
This area tends to lose its snow earlier than elsewhere in Mono County, offering fields of wild iris and lupine from mid- to late June in Bridgeport's "Big Meadow". To the east, the Bodie Hills are a bit higher in elevation and typically blossom later. Species to watch for include white and blue lupine, Anderson's larkspur, yellow hawksbeard, wild iris, and Coville's phlox.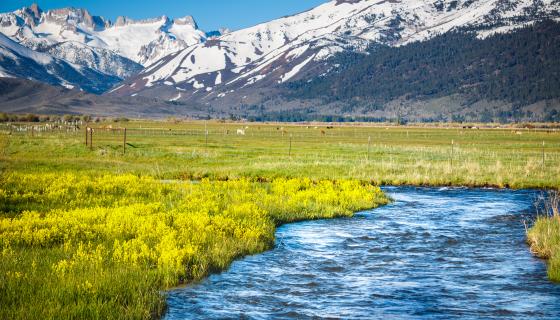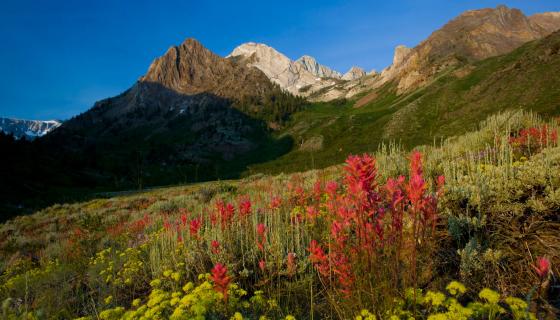 Just north of Crowley Lake, this dramatic canyon is a sure bet for wildflowers once the snow melts through July.  Interspersed among sagebrush, you'll find paintbrush, lupines, milk-vetches, hawksbeard, desert peach, scarlet gilia, and meadows drenched with bright yellow mule ears.  One of the most photogenic hikes in the region, another option is to see it all on horseback with McGee Creek Pack Station.  Getting here:  From US 395, south of Mammoth Lakes, take the McGee Creek exit.  Follow McGee Creek Road for 5 miles to the trailhead.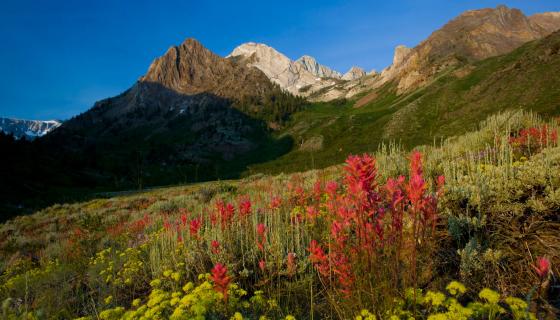 Leavitt Falls
Sonora Pass
For non-hikers, the 300-foot Leavitt Falls can be viewed from a vista point on the east side of Sonora Pass (State Route 108). Located at a 7,000-foot elevation means the snowpack melts earlier than other parts of the region, making its peak display in early spring once Sonora Pass is open. Check road conditions here.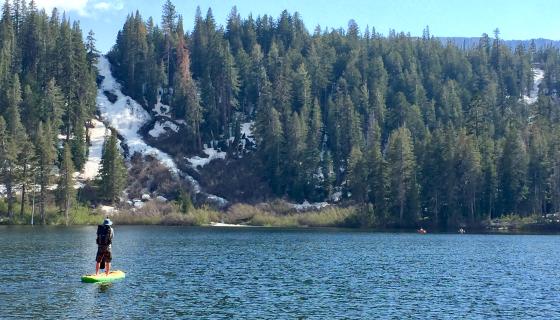 Twin Falls
Mammoth Lakes
Scenic Twin Falls in the Mammoth Lakes Basin tumbles 250 feet, year-round, from Lake Mamie to Lower Twin Lakes. The waterfall can be easily viewed from Lake Mary Road (there's a parking area right before the lake) and the two bridges that cross Twin Lakes. It can also be seen from the top at Twin Falls Overlook, off Lake Mary Road across from Lake Mamie.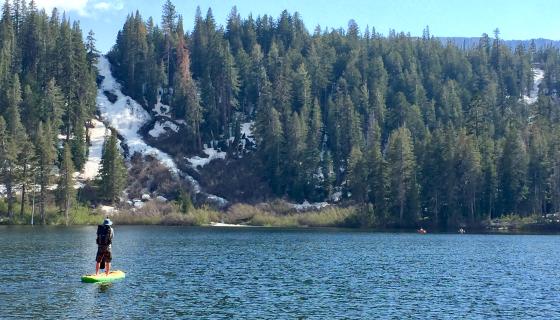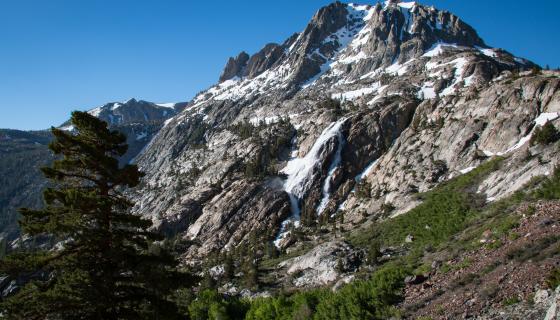 Horsetail Falls
June Lake Loop
Iconic Horsetail Falls is the largest waterfall in the June Lake Loop, rushing 270 feet from Agnew Lake to the valley floor. The best flow can usually be viewed in spring and early summer, depending on how much water is being released from the dam system above it.  The Rush Creek Trail takes hikers fairly close to the waterfall, but Horsetail Falls can also be seen right from Highway 158 - "down canyon" near Silver Lake and "up canyon" near the June Mountain parking lot.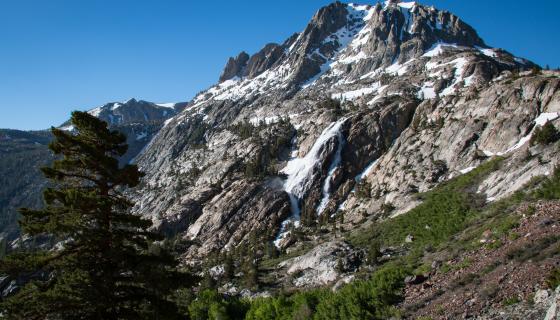 Lundy Canyon Trail
Lee Vining area
Waterfalls, wildflowers, fall colors and more! The Lundy Canyon trail, just north of Lee Vining, hosts an abundance of spring beauty, with meadows swathed in columbines and yellow wallflowers, as well as a spectacular show of colors in the fall. The trail is also touted as showcasing at least three sets of waterfalls, along with some picturesque beaver ponds. The moderate hike begins from a grove of aspens and follows Mill Creek, passing by the 70-foot Lundy Canyon Falls, as well as a myriad of other cascading streams and waterways, eventually reaching the final waterfall that cascades down from Lake Helen and the Twenty Lakes Basin trail.