At the base of jagged peaks and alpine forests lies the quaint and historic town of Bridgeport, CA. A peaceful place where the cows graze, lakes and stream team with fish, and winter recreation opportunities are starting to abound. Here, you can find over 500 miles of stunning trails — summer and winter alike. As the winter season approaches, the maintenance crews for the many access points are getting ready for another season of fun in the high country. 
Away from the bustle of the resorts, a backcountry trail awaits near Buckeye Creek. The Bridgeport Winter Trail System is a new winter recreation area in the region. Anyone hoping to explore new routes should add this groomed winter trail to their list.

Enjoying the view of the surrounding peaks. Image: Nathan Bech, Wilderness and Trails Manager, Humboldt-Toiyabe National Forest
About the Bridgeport Winter Trail System
The Bridgeport Winter Trail System started in 2022 as a pilot project made possible by volunteers and the Forest Service. This unique and scenic groomed Nordic trail lies just seven miles off Highway 395, up Twin Lakes Rd. 
This 4.25 mile (8.5 mile out & back) groomed winter trail provides an excellent opportunity to kick and glide with access to Buckeye Hot Springs day-use area and incredible views of the Bridgeport Valley, Bridgeport Reservoir, and the Hunewill Hills. This U.S. Forest Service trail-system is groomed and maintained by local volunteers.
You can find updates, trial etiquette info, and trail maps by visiting the Mono County Sustainable Recreation website or by stopping by the Bridgeport Ranger Station.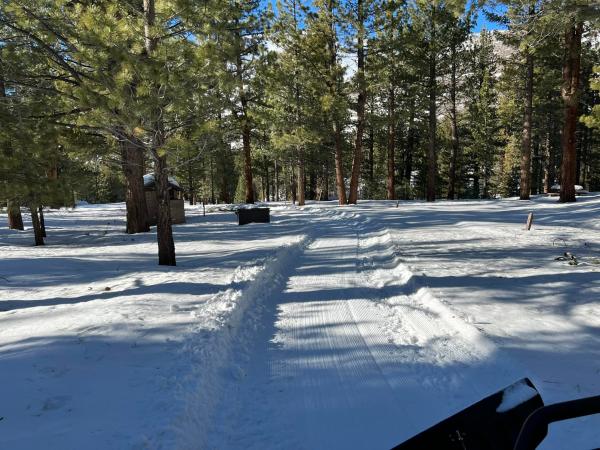 A Chat With Jimmy Little, volunteer groomer
Jimmy Little, the owner of Virginia Creek Settlement, is the head volunteer behind the Bridgeport Winter Trail System. His goal was to create more winter recreation in the Bridgeport area. He said the trail was a success and met with incredible support from the community and Forest Service. Thanks to him and his wife, the existing trail from last year is scheduled for this season and some expansion is in the works. 
Jimmy mentioned he hopes to soon expand the trail system. Depending on feasibility and volunteers, there could be more groomed trails one day.
It is always inspiring to talk to folks who donate time and effort to their communities. Volunteers like Jimmy make access into this rugged terrain possible. The Twin Lakes area is phenomenal and we are grateful there is someone striving for more winter recreation there. 
Grooming and plowing operations are weather dependent from January through April.
Please keep in mind:
Please respect TEMPORARY winter closures – NO WHEELED VEHICLES BEYOND CLOSURES
Please park in staging areas identified on map  DO NOT BLOCK ROADWAY – PROVIDE ACCESS FOR SNOW PLOWING AND EMERGENCY VEHICLE OPERATIONS
Camp Like a Pro!  RESPECT PRIVATE PROPERTY – NO TRESPASSING
Do not ride or walk in cross country ski tracks.
Respect other trail users. Be courteous and yield right of way according to etiquette code. All users yield to grooming machines
 Over-Snow-Vehicles (OSV) yield to all other users. SPEED LIMIT IS 15 MPH
FAT BIKES: Yield to other non-motorized users. Do not ride in soft conditions – If you leave a rut deeper than 2 inches, it's too soft.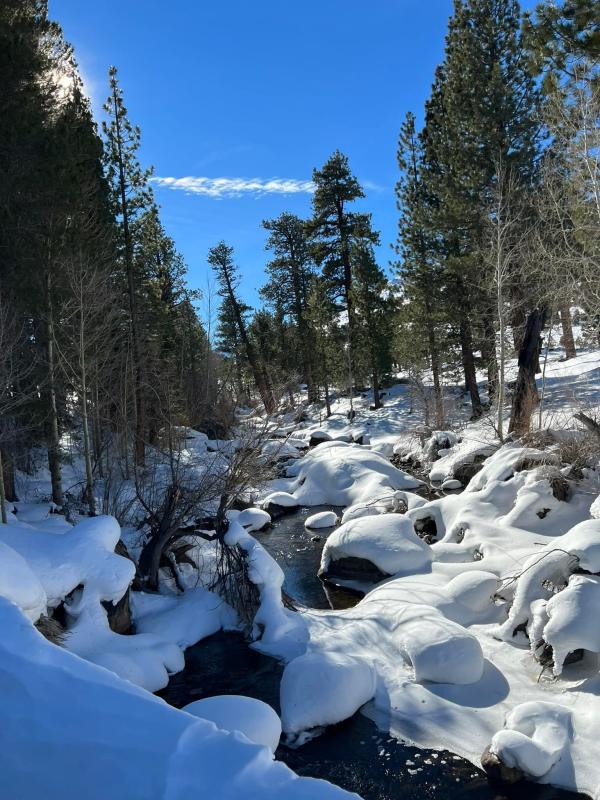 Buckeye Creek blanketed in snow can be seen on the new Bridgeport Winter Trail System - photo by Jimmy Little