Visit one of America's Best Fall Foliage Forests!
Mono County and the surrounding Eastern Sierra provide the best show of glowing golden-orange-crimson fall colors in the western United States. Our natural landscape in the Eastern Sierra, where rugged granite canyons are carved by rushing streams and framed by an azure sky, offers a spellbinding contrast of colors during autumn. Travel to Rock Creek, Mammoth Lakes, the June Lake Loop, Yosemite (Tioga Pass), Lundy Canyon, Bridgeport, Sonora Pass and beyond to see fall colors at their finest.
Click HERE to download our Fall Color Guide & Map! 
FALL COLOR REPORT
CURRENT FALL COLOR REPORT - September 20, 2023:

A few small changes this week but still waiting! 
Very little progress was made from our last report with all locations but one remaining in the 0-10% category. Sagehen Summit was still very green when we were there yesterday but we are bumping it to the 10-50% category with some full patches of yellow down the road at Johnny Meadows. Sagehen Summit peaked last year starting on September 27th so we are (still) anticipating rapid changes by the next update. The location as of yesterday was closer to 10% than 50%.
Only a few more leaves appeared at Virginia Lakes and Rock Creek Lake this week, but we would hope it would reach the 10-50% by next Wednesday's report.
Convict Lake and McGee Creek also are stuck in the 0-10% category with anticipation of peaking in mid to early October.

Tioga Pass, Lower Lee Vining Canyon and the Mammoth Lakes Basin were also starting to show some signs of fall with a few leaves and bushes slowly starting to turn. These are our only additional locations this week to reach the 0-10% category. 
We will have three straight days of below-average temperatures starting tomorrow through Saturday evening with Bridgeport reaching a low of 23 degrees. The National Weather Service in Reno is forecasting localized showers with snow showers possible down to 8,000 feet. Let's hope this mini-storm kickstarts the season for us with at least a few locations making significant progress by next week's report.
Stay tuned!
IMPORTANT INFORMATION FOR VISITORS THIS FALL COLOR SEASON: 
Please remember to Leave No Trace and always mind your Mountain Manners.
Please do not park in the middle of the road to take pictures. Use a designated pullout or parking area. Do not park on vegetation.
Lundy Canyon- The road is narrow with limited sight distance on curves, few pullouts to safely park on, and limited bathrooms facilities. We encourage visitors to park at the Lundy Canyon Trailhead parking lot for their fall colors or walking the road from a  pull out to their desired location. Alternative parking locations include the boat launch near the Lundy Lake resort, and the parking lot at Lundy Lake dam which has a vault toilet building.
Sagehen Peak/ Sagehen Meadows Road- Limited parking and no bathrooms or trash services available in this location. Make sure your vehicle is not blocking the road when you are finding a place to park your vehicle. Do not park on vegetation
June Lake Loop- Hwy 158 is a narrow road from Silver Lake past Grant Lake. Be especially careful not to park on the road in this section and drive slowly as there is not much room for error. This is also a major crossing area for wildlife. 
Bookmark this page as we will be doing updates every Wednesday by 5pm throughout the season!  Follow us on Facebook and Instagram. If you're new to fall colors in Mono County you can view images from previous years to get an idea of timing for all locations and elevations, and download our Fall Color Map to help navigate all the fall color hot spots in the Eastern Sierra. 
Guide:
0-10% - Just Starting
10-50% - Patchy
50-75% - Near Peak (Go Now!)
75-100% - Peaking (GO NOW!)
Past Peak - (You Missed It)
WALKER / COLEVILLE / TOPAZ
Monitor Pass (8,314') 0%
West Walker River, Walker, Coleville and Topaz (5,200') 0%
Sonora Pass (9,623') 0%
Lobdell Lake Road (9,274') 0% - The road has been repaired but AWD/4WD is highly recommended. 
BRIDGEPORT / VIRGINIA LAKES
Twin Lakes (7,000') 0%
Bodie Hills (9,419') 0%r - Some sections of road have been washed out from the spring runoff. AWD/4WD is highly recommended. 
Virginia Lakes (9,819') 0-10% Just Starting: Only a few trees with a few leaves but we anticipate this to accelerate by the time the weekend is here.
Conway Summit (8,143) 0%
Summers Meadow (7,200') 0%

LEE VINING
Tioga Pass (9,943') 0-10% Just Starting - Surrounding grasses near the Tioga Pass area have undergone a magical transformation, with blades of grass turning into golden strands. Around the area, you'll notice the start of vibrant foliage of the bushes and shrubs that will eventually erupt into a symphony of yellows and oranges.
Lee Vining Canyon (6,781') 0-10% Just Starting - Local color spotter Paul McFarland emailed us today that a few trees have changed with only small hints throughout the rest of the canyon.
Lundy Lake & Canyon (7,858') 0%

BENTON & 120 EAST 
Sagehen Summit (8,139') 10-50% Patchy - Closer to 10% but mostly lime-green coverage. We saw a few pockets of gold down the road at Johnny Meadows if you want to continue down the road. There are no bathroom facilities at this location. Please do not park on the side of the road blocking access.
JUNE LAKE LOOP
June Lake Loop/Hwy 158 (7,654') 0%
MAMMOTH LAKES - Follow Mammoth Lakes Tourism for the most up-to-date information: VisitMammoth.com
Mammoth Lakes Basin (8,996') 0-10% Just Starting - One of the standout features of this year's fall season is the early onset of color change in the area's bushes. While the bushes are leading the way, it's important to note that the overall fall color progression is still in its early stages. The aspen trees are mostly lime in color, but with a few yellow patches.
CROWLEY LAKE/McGEE CREEK/CONVICT LAKE
McGee Creek Canyon (8,600') 0-10% Just Starting: The trees along McGee Creek are turning lime green and the tops are starting to show yellow leaves. 
Around Crowley community (6,781') 0%
Convict Lake (7850') 0-10% Just Starting: These trees seem to have a mind of their own this year. On the left side of the lake, near the parking area many trees are a mix of yellow and lime green. Towards the back of the lake are a few trees that are mostly orange already.
ROCK CREEK CANYON
Rock Creek Road (9,600') 0-10% Just Starting: At Rock Creek, you will find a few small patches of yellow Aspen leaves, but the Sierra Willows are certainly showing more color.
Pictures from the 2023 Fall Color Season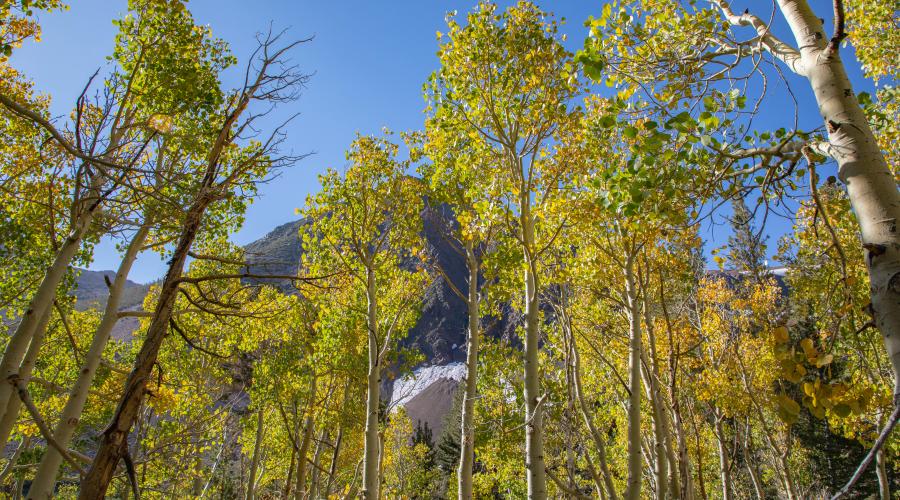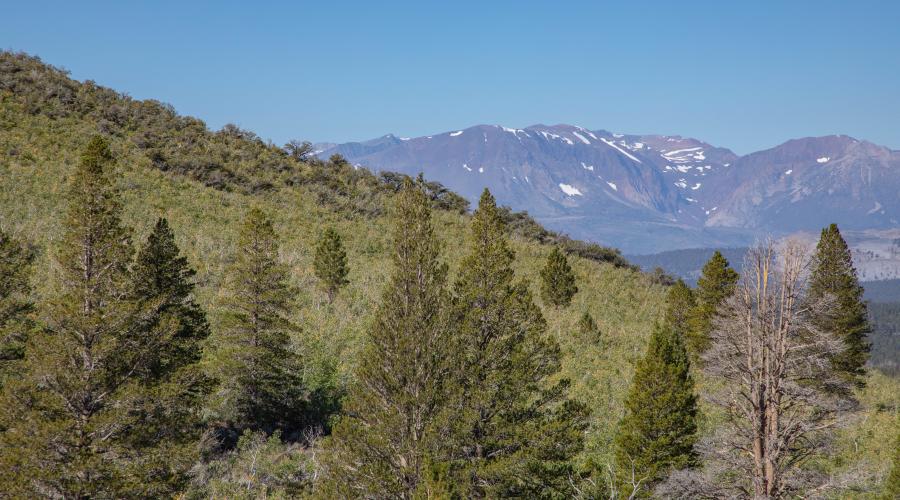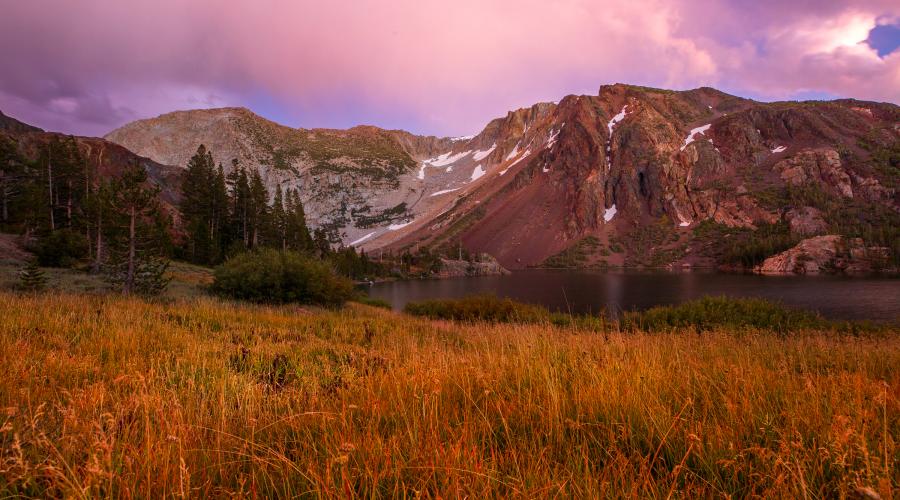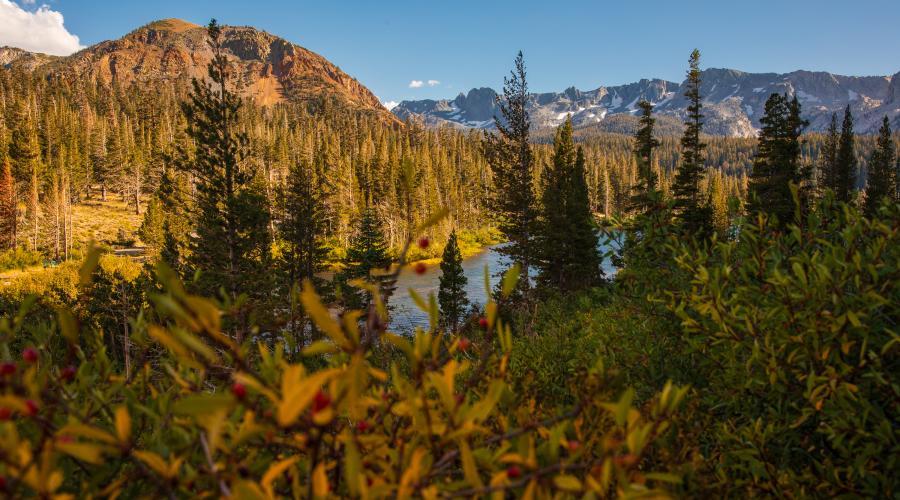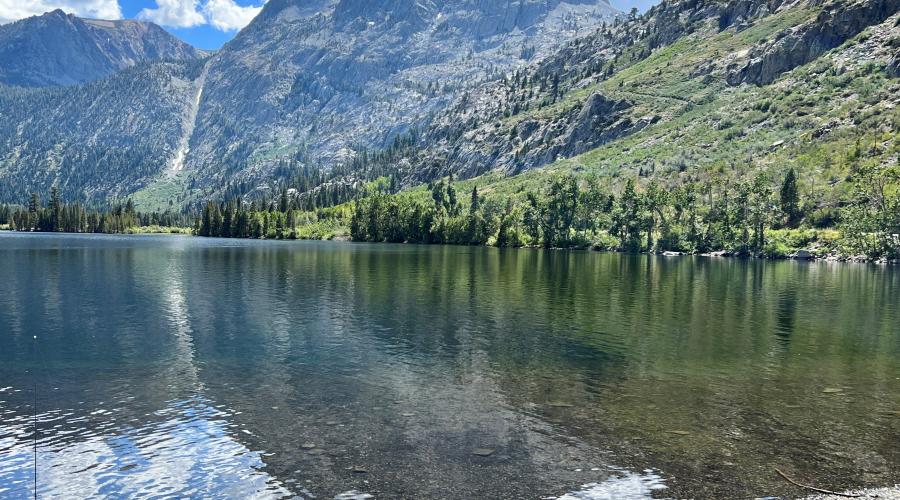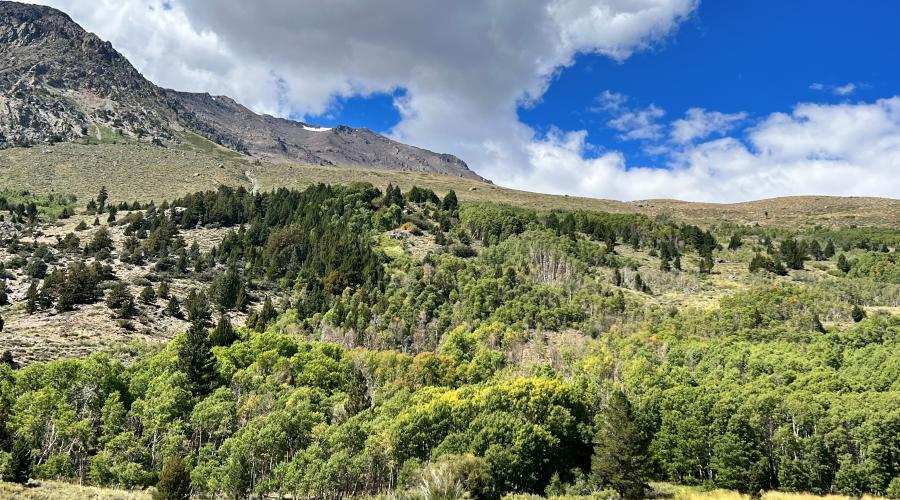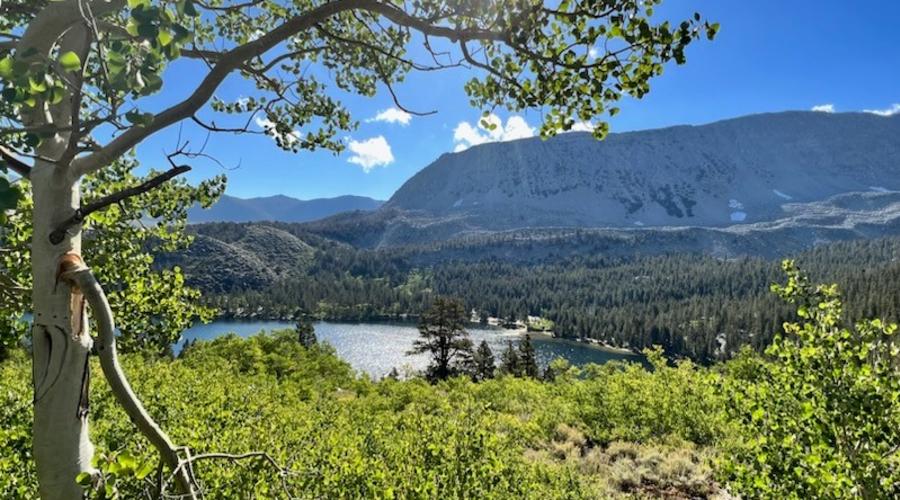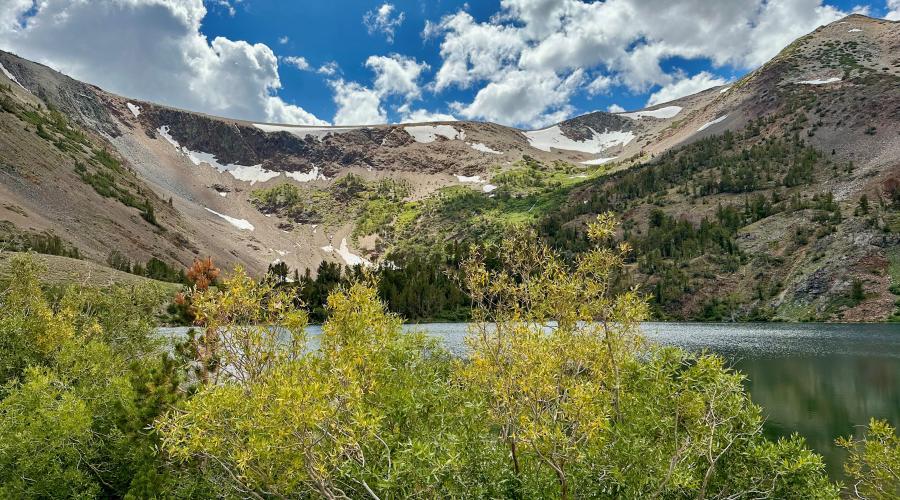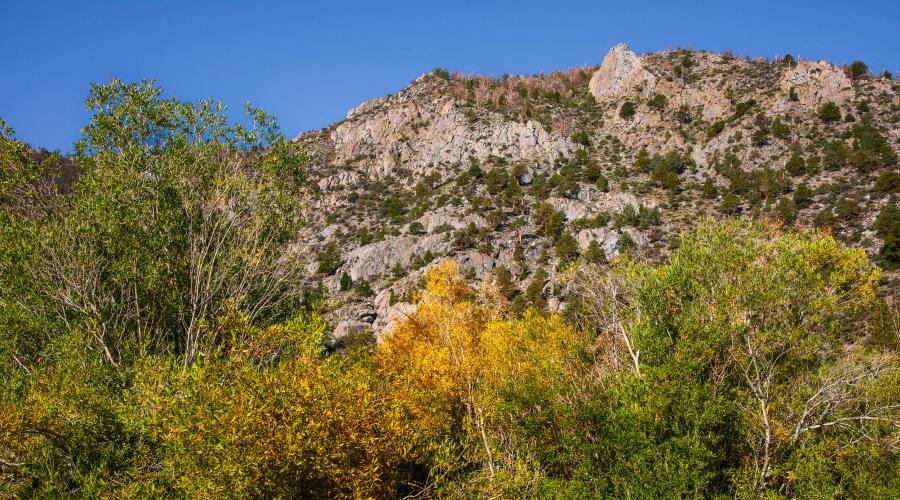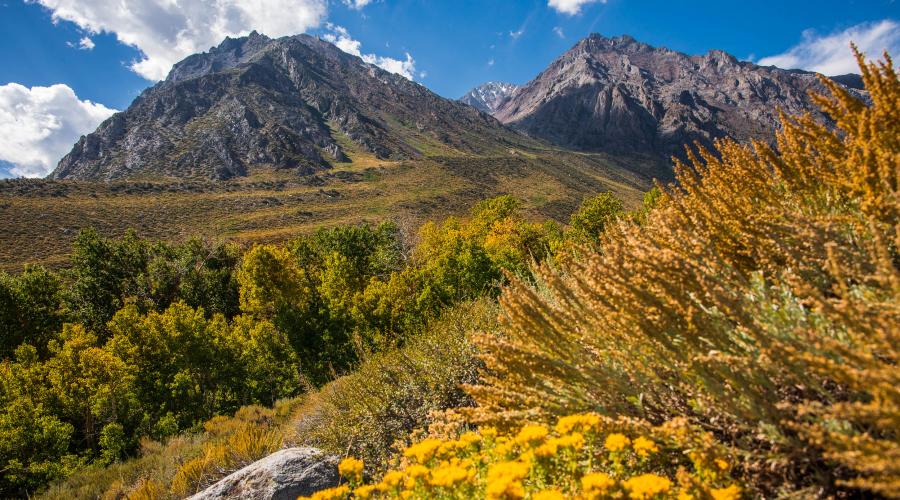 Pictures from the 2022 Fall Color Season