Waterfalls and Wildflowers
Timing is everything!
Snow and rain set the stage for magnificent waterfalls and vibrant wildflowers throughout the Eastern Sierra. In Mono County, waterfalls typically surge in early spring, which is usually when the wildflower season is just getting started (flowers tend to peak mid to late summer). If the timing is right, though, you can catch the two seasonal spectacles in one trip! 
Stay tuned to our Facebook, Instagram, and/or Twitter feeds for up-to-date information!
Lundy Canyon Trail
Lee Vining area
Waterfalls, wildflowers, fall colors and more! The Lundy Canyon trail, just north of Lee Vining, hosts an abundance of spring beauty, with meadows swathed in columbines and yellow wallflowers, as well as a spectacular show of colors in the fall. The trail is also touted as showcasing at least three sets of waterfalls, along with some picturesque beaver ponds. The moderate hike begins from a grove of aspens and follows Mill Creek, passing by the 70-foot Lundy Canyon Falls, as well as a myriad of other cascading streams and waterways, eventually reaching the final waterfall that cascades down from Lake Helen and the Twenty Lakes Basin trail.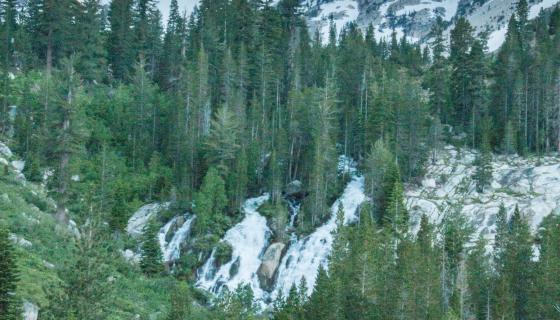 Horse Creek Trail
Bridgeport area
The Horse Creek Trail is a four-mile hike at the west end of Twin Lakes near Bridgeport. The trailhead is located at Mono Village Resort and meanders by the popular Horsetail Falls, and includes views of the Sawtooth Ridge, beautiful aspen groves that change colors in the fall, and expansive patches of Indian paintbrush and yarrow flowers in spring and summer.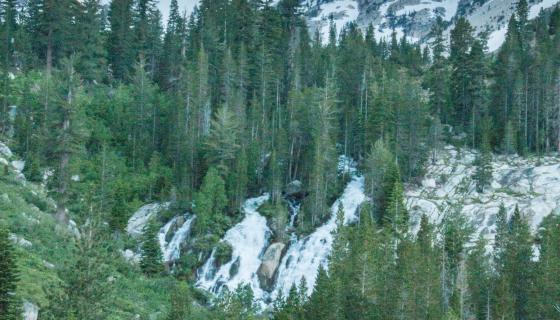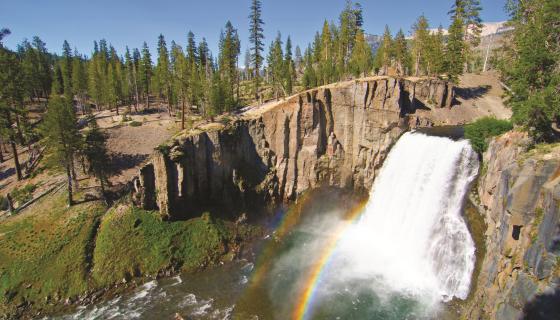 Rainbow Falls
Mammoth Lakes area
Rainbow Falls is one of the most majestic waterfalls in the Mammoth Lakes area. Its location is accessible by a 1.5-mile walk from the Reds Meadow area located  in the Devils Postpile National Monument area. The falls can also be reached via a 2.5-mile path from Devils Postpile. Best done in the cool, early morning hours as the trail does not provide much shade. There is a minimal fee to ride the mandatory shuttle from Mammoth's Main Lodge parking area to the trailhead. More information on visiting Rainbow Falls and the Devils Postpile National monument here.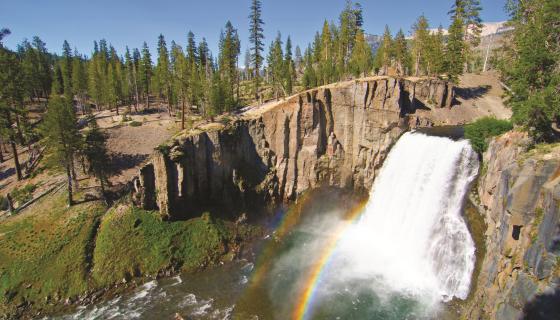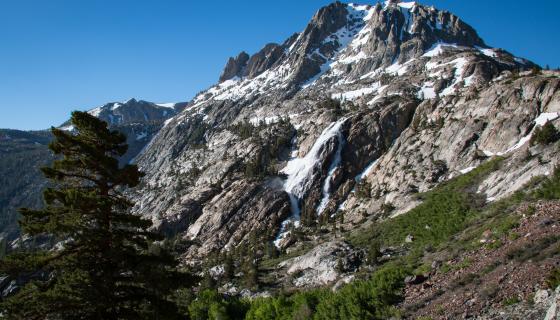 Horsetail Falls
June Lake Loop
Iconic Horsetail Falls is the largest waterfall in the June Lake Loop, rushing 270 feet from Agnew Lake to the valley floor. The best flow can usually be viewed in spring and early summer, depending on how much water is being released from the dam system above it. The Rush Creek Trail takes hikers fairly close to the waterfall, but Horsetail Falls can also be seen right from Highway 158 - "down canyon" near Silver Lake and "up canyon" near the June Mountain parking lot.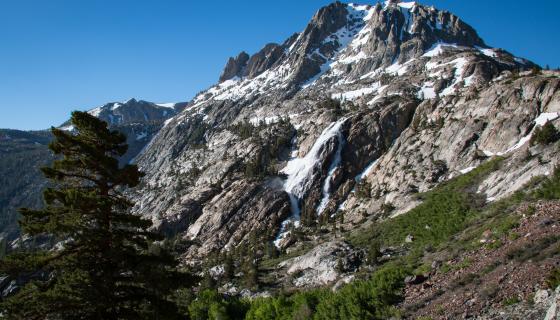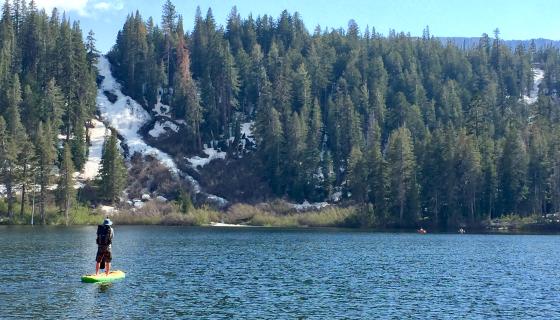 Twin Falls
Mammoth Lakes
Scenic Twin Falls in the Mammoth Lakes Basin tumbles 250 feet, year-round, from Lake Mamie to Lower Twin Lakes. The waterfall can be easily viewed from Lake Mary Road (there's a parking area right before the lake) and the two bridges that cross Twin Lakes. It can also be seen from the top at Twin Falls Overlook, off Lake Mary Road across from Lake Mamie.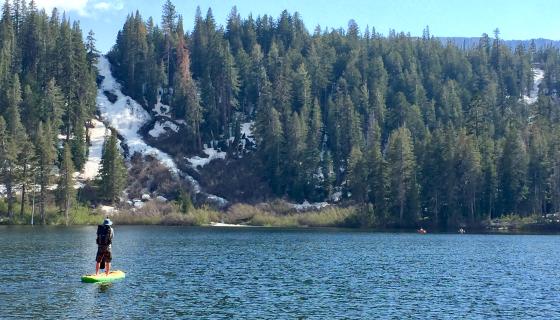 Leavitt Falls
Sonora Pass
For non-hikers, the 300-foot Leavitt Falls can be viewed from a vista point on the east side of Sonora Pass (State Route 108). Located at a 7,000-foot elevation means the snowpack melts earlier than other parts of the region, making its peak display in early spring once Sonora Pass is open. Check road conditions here.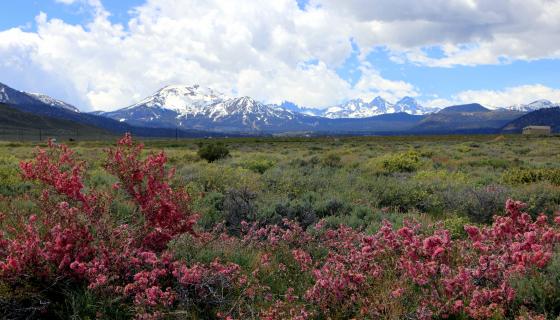 A number of trails and meadows boast beautiful splashes of color throughout the region. Similar to waterfalls, catching the wildflower bloom depends on winter snowfall and the speed with which it melts. Timing will also vary by region and elevation. Read more here about some of our favorite locations and our best advise on when to time your trip!
The Wildflower Hot Spots of the Eastern Sierra guide is an excellent resource to arm yourself with as you scout for flowers. It is available for a small donation (about $2) at visitor centers in Mono County.