Pictured above: Ridge Rambler Half Marathon
Racers ready? Here are three upcoming races with breathtaking (figuratively and literally) views to choose from this fall. 
Join the Mono Lake Committee on Sept. 11 for the 41st annual Tioga Pass Run and enjoy one of the most beautiful roads in America! Walk or run 12.4 miles from Lee Vining up 9,943' Tioga Pass, ascending 3,200 feet (yes, 3,200 feet!) to Yosemite's east entrance. Great scenery, tasty snacks, and all for a good cause: proceeds from the race benefit local nonprofit the Mono Lake Committee. Find more information or register at tiogapassrun.com. 
Another stunning point-to-point course awaits you at the Ridge Rambler Half Marathon. Come and run 13.1 miles in the beautiful Bridgeport area on Saturday, September 24. The start of the race is at about 7,100 feet on the backside of Lower Twin Lake, beneath the imposing Sawtooth Ridge. The course remains steady around the lake and then starts heading downhill from Twin Lakes towards Buckeye Road, with gentle rolling until the finish of the race at 6,600 ft. Celebrate your amazing run at the after party hosted by Growler's Eatery and Big Meadow Brewing, and feel extra good knowing all proceeds go to support students at the Bridgeport Elementary School. Please visit the website to register, and get more updates and information on the Ridge Rambler Facebook page.
For a nice dirt-trail race with beautiful scenery, old neighbors and new friends, then the Crowley Lake Trail Run is it. The 5k/10k and kids 1k is a fundraising event for the Crowley Lake Community. The course winds through fire roads next to Crowley Lake, past Beaver Cove and Crooked Creek, and boasts beautiful views of the surrounding Glass Mountains, White Mountains, and Sierra Nevada Mountains. The run takes place the morning of Sunday, September 25.  For more information, please visit the Crowley Lake Trail Run website.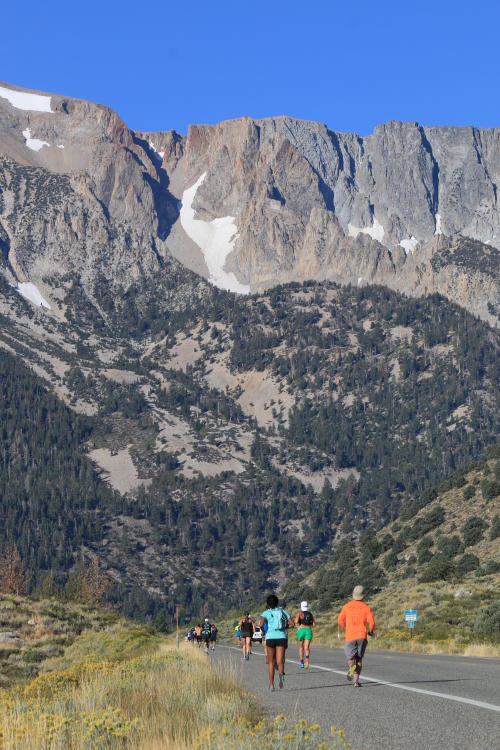 Photo: Tioga Pass Run courtesy of the Mono Lake Committee